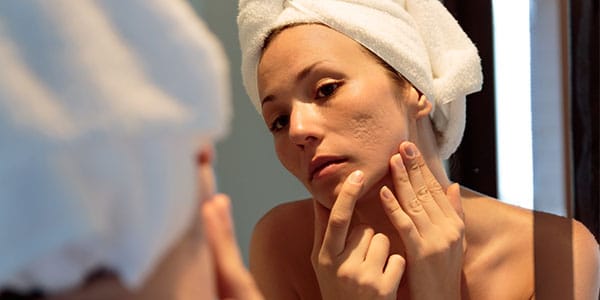 Acne scarring is the result of deep trauma to the skin related to acne.  Acne scars present themselves as either raised or pitted and can occur on the face or body.  At Vitality Medicine, scars and other skincare concerns have options for treatment.  Visit with our treatment providers to learn what schedule would be best for you.
What causes acne scars?
Acne begins when oil and dead cells get trapped inside a hair follicle. Bacteria can also get into the mix, causing inflammation and infection that spreads to surrounding tissues. Your body heals the damaged area by producing thick collagen, which creates a scar.
You can develop two types of acne scars:
Hypertrophic scar: Too much collagen is produced, causing a raised scar
Atrophic or depressed scar: Not enough collagen is produced, causing an indented scar
How does the Aerolase Neo treat acne scars?
The Aerolase Neo is an innovative laser that can reach structures deep below the surface without harming your skin. It does the job by delivering light energy in very rapid pulses.
With the Neo's 650 Microsecond Technology™, your skin's exposure to the laser is up to 50 times shorter compared with other lasers.  This means your skin doesn't get hot.  The procedure is exceptionally comfortable compared to other lasers, without needing cooling gels or topical anesthetics.
As the laser reaches below each scar, its heat shrinks the existing proteins and triggers collagen production. With the boost in collagen, skin strengthens and tightens,  diminishing the scar's appearance.
3220 SW 31st Rd STE 301, Ocala, FL 34474
11938 CR101 Suite 130, The Villages, FL 32162
Wednesday
9:00am - 4:00pm