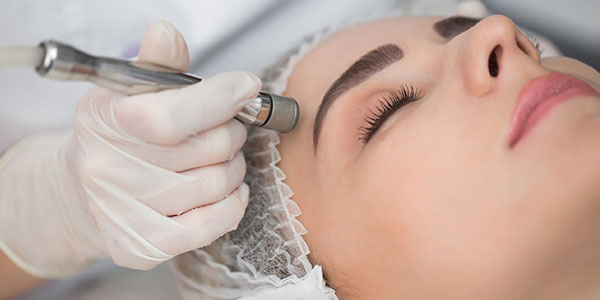 Microdermabrasion is a one of the best and most affordable skin treatments available today. It gently exfoliates, removing the superficial layer which is dull and dry; causing aging. The diamond crusted tip of the machine abrades away the old surface to make new for a beautiful and refreshed glow.
Microdermabrasion for all skin types and colors
How does it work? With gentle abrasion, microdermabrasion allows oxygen rich blood to come to the surface, and it promotes healing and collagen production. This treatment can improve the appearance of sun damage, wrinkles, acne scarring, melasma and similar concerns.
This treatment may improve:
fine lines and wrinkles
enlarged pores and blackheads
acne and acne scars
stretch marks
dull-looking skin complexion
uneven skin tone and texture
Milia (white heads embedded under the skin)
Melasma (hormonal pigmentation)
Sun damage
hyperpigmentation
Schedule your Complimentary Consultation!  Visit with our licensed medical aesthetician to address your individual skincare needs and concerns.
3220 SW 31st Rd STE 301, Ocala, FL 34474
11938 CR101 Suite 130, The Villages, FL 32162
Wednesday
9:00am - 4:00pm